新浪美股讯 北京时间11日晚,美国最大两家化学公司杜邦与陶氏化学周五宣布达成平等合并协议,合并后的公司将被命名为陶氏杜邦公司(DowDuPont),成为全球最大化学公司,市值超过1200亿美元。这是全球化工行业迄今为止最大的一起并购交易。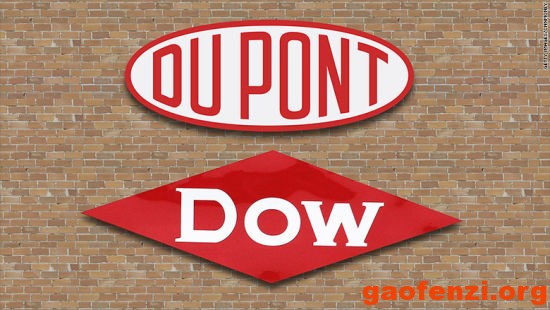 根据交易条款,杜邦股东手中每股股票将可获得1.282股陶氏杜邦股票,陶氏股东手中每股股票可获得1股陶氏杜邦股票。两公司现有股东将各自拥有合并后公司大约一半的股份。陶氏化学CEO利伟诚(Andrew Liveris)将担任合并后公司的董事长,杜邦CEO埃德-布林(Ed Breen)将担任新公司的CEO。
利伟诚表示:"此项交易将改变化学行业的游戏规则,十多年来我们一直希望将这两个强大的创新和材料科学领袖结合在一起,这一愿望终于得以实现。"
两公司表示,合并后的公司未来将寻求分拆为三家独立的上市公司,分别专注于农业、材料和特种产品。
此项交易可能面临反垄断监管机构的严格审查。不过,分析师认为,尽管此项交易规模巨大且极其复杂,但仍可能在不需要出售太多资产的情况下获得监管批准。彭博情报(Bloomberg Intelligence)的分析师杰森-迈纳(Jason Miner)表示,两家公司的产品重叠并不广泛,反垄断监管机构关注的焦点可能在种子和农作物化学品领域。(羽箭)
以上内容来自新浪网,仅供参考学习
The impact of the mega-merger between Dow Chemical Co. and DuPont Co., which provide components and systems for every major global automaker, will be felt throughout the automotive supply chain.
DuPont and Dow today agreed to merge in an all-stock deal valuing the combined company at about $130 billion. While the combined DowDuPont's auto division will account for only a small fraction of the company's business, the merger's ripple effects run deeper into the second and third tiers of the supply chain, which often use materials from both companies in various auto parts and components.
The so-called "merger of equals" will be subject to various U.S. and global antitrust approvals, but there is little crossover between Dow and DuPont in the automotive sector. Dow Automotive is a leader in thermoset plastics, which cannot be remolded and are used in exteriors and "in-car" products, while DuPont's automotive unit primarily focuses on thermoplastics, which soften when heated, and various "under the hood" products.
"In automotive, we are combining Dow's fourth position on auto exteriors and in the car with DuPont's significant presence, specifically under the hood, to become a more complete solutions provider to our customers," Dow CEO Andrew Liveris said in a conference call this morning.
It is not clear if the deal will lead to any job cuts or plant closures at the companies' automotive units, though the combined entity expects to save about $3 billion annually on efficiencies within two years of merging.
Specialties
DuPont's automotive unit ranks No. 64 on Automotive News' list of the top 100 global suppliers with an estimated $3 billion in worldwide sales to automakers in 2014.
DuPont provides an array of polymers, chemicals, composites and bio-based fuels for automakers and suppliers.
"Automotive continues as our major end-use market," Richard Mayo, global nylon business director at DuPont, told Plastics News recently. "What's happening there is really important as far as driving demand for product."
DuPont earlier this year increased its capacity for high-temperature nylon, used in automobiles, at its Richmond, Va., plant by 10 percent and by 20 percent at its plant in Uentrop, Germany.
DuPont's automotive materials also include a variety of heat- and chemical-resistant specialty resins.
DuPont's automotive business, while large, is not as big as it was just a few years ago. The company sold its DuPont Performance Coatings paint business in 2013 to the Carlyle Group for $4.9 billion. The unit is now called Axalta Coating Systems.
Dow Automotive ranks No. 72 on the Automotive News list with $2.8 billion in sales to automakers last year. It provides adhesives, foams and industrial fluids to automakers.
Dow's primary auto materials include plastic-like materials used in interiors, a synthetic rubber used in belts, hoses and similar products and a sound-dampening foam.
Three companies
The deal is a prelude to a split-up of the combined company into three discrete businesses focused on agriculture, materials and specialty products in the next 18-24 months.
The materials company will fold in the automotive units of both Dow and DuPont, in addition to their performance-materials divisions and other units, to create a $51 billion-a-year company.
Dow and DuPont have been enthusiastic about the automotive market in the past few years. They're encouraged by growing volume since the Great Recession and efforts to lighten vehicles that have encouraged automakers to replace heavier metals, ceramics and other materials with plastics.
The merger of Dow and DuPont continues a consolidation trend in the plastics materials market, following other major deals such as Dow buying Union Carbide and the combinations of Exxon and Mobil, and Phillips and Chevron.
If completed, the merger would be the largest-ever deal in the chemicals industry. The agreement, under consideration since at least February, comes after two years of pressure from activist investors who argued that shareholders of both companies would realize greater value if they were broken up.
DowDuPont is estimated to have annual sales of around $83 billion, with a little more than $54 billion coming from Dow and just over $28 billion from DuPont.
Liveris, 61, will become executive chairman of the company, which will be owned 50-50 by current shareholders of DuPont and Dow. DuPont CEO Ed Breen, 59, will be CEO of DowDuPont.
"This will create tremendous value for our shareholders and employees," Liveris said on a conference call. "It's a tectonic shift in an industry that has been evolving for many years."
Dow and DuPont shares fell on Friday after soaring earlier in the week following reports of negotiations between the two companies. Dow fell 3 percent and DuPont dropped 5.5 percent in an overall down day on Wall Street.
Dow is based in Midland, Mich., while DuPont is headquartered in Wilmington, Del.
Automotive News intern John Irwin, Plastics News editor Donald Loepp, Crain's Detroit Business reporter Dustin Walsh, Reuters and Bloomberg contributed to this report.
以上内容转载自:autonews,仅供参考学习!
小编搜索了一下域名情况,
发现和dowdupont相关的重要域名
均被网民抢注,
dowdupont.com(已注册)
dowdupont.cn(已注册)
dowdupont.wang(已注册)
dowdupont.xyz(已注册)
dowdupont.site(已注册)
dowdupont.me(已注册)
dowdupont.win(已注册)
dowdupont.me(已注册)
dowdupont.win(已注册)
dowdupont.top(已注册)
dowdupont.cc(已注册)
dowdupont.date(已注册)
dowdupont.net(已注册)
dowdupont.info(已注册)
dowdupont.biz(已注册)
dowdupont.com.cn(已注册)
dowdupont.co(已注册)
不知道陶氏杜邦公司作何感想?
要不要换个名字再来?